Auctus Certificate IV in Training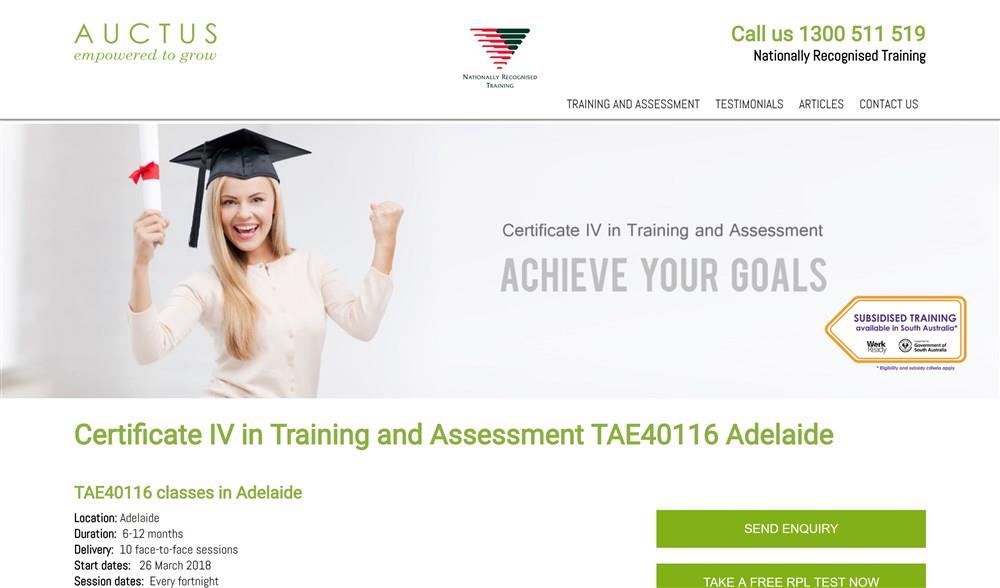 Website features:
Clean, simple and minimalist website designs;
User friendly CMS;
Website menu manager;
Rich text editor (WYSIWYG);
Website Image Bank to store unlimited number of images;
Automated News, Events and Blog sections;
Automated Testimonials section;
"Upload Your Documents" tools;
User Feedback Form;
Website statistics;
SEO tools;
About Auctus
Auctus is a Registered Training Organisation (#40879) which provides nationally recognised qualifications in business with a focus on practical confident application.
Our aim is to get you started on the learning experience you are looking for and support you all the way to completion of your Certificate IV in Training and Assessment. We tailor our involvement in your journey with your goals in mind.
In Certificate IV in Training and Assessment course you will learn through face-to-face workshops and self-directed learning including:
7 x 1 day workshops delivered in Adelaide
Coaching sessions with your trainer during the length of the course
Student training and assessment workbooks are written in an easy to follow format, ideal for class preparation
View website